Electrical Lineworker Program
Certificate Program


PROGRAM OVERVIEW
Western Texas College's Electrical Lineworker Program prepares individuals to build, repair, and maintain electrical distribution systems (EDS). Job duties include:
Stringing new or repairing old wires
Installing and maintaining insulators
Setting towers or poles to hold electrical wires
Assembling and erecting substations
Installing and repairing traffic or train signals
Tree trimming
Students also train for a CDL as part of the certificate program.
Lineworkers are in high demand during natural disasters such as tornados, ice storms, and hurricanes.

CERTIFICATE OFFERED
Students who graduate with the Electrical Lineworker Training Certificate will have the basic knowledge and skills of electrical distribution and will have an opportunity to secure a great job at a good salary with attractive benefits. According to O*NET OnLine, Electrical Power-Line Installers and Repairers in Texas have a mean hourly wage of $26.87. The job outlook from now into 2030 looks promising for graduates as a significant number of current linemen are expected to retire in the coming years.

ALCOHOL/DRUG TESTING
As part of WTC's Alcohol/Drug policy, random, reasonable cause, and post-accident drug and alcohol tests are performed on lineman students during their year of training.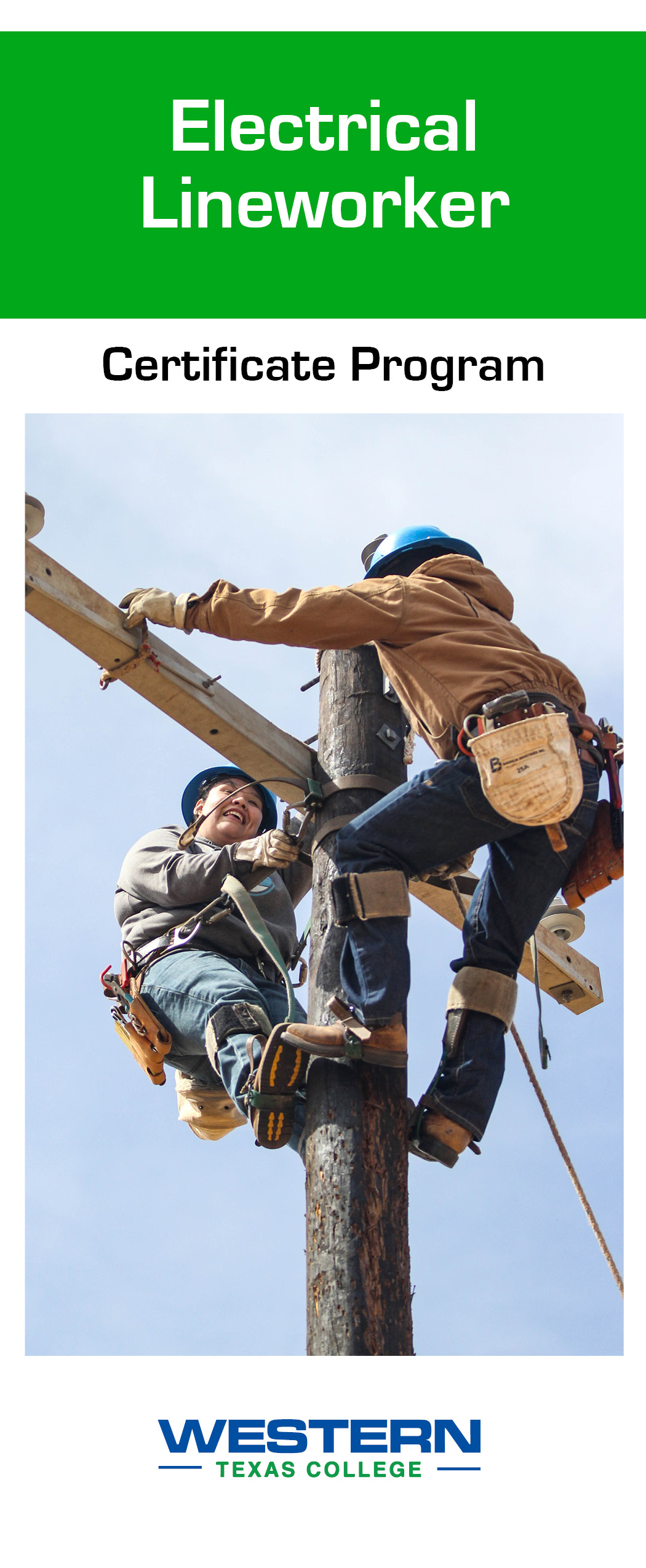 PROOF OF HEALTH INSURANCE
GAINFUL EMPLOYMENT INFORMATION
CURRICULUM

Curriculum provided by the Institute for Safety in Powerline Construction.
 

REQUEST MORE INFORMATION

Would you like to receive more information about this program? Fill out the Information Packet Request HERE.

TAKE THE NEXT STEP
Ready to apply? Check out our New Student Checklist. For more information on applying to the program, please contact:
Tony Strawn
Instructor, Electrical Lineworker Technology
tony.strawn@wtc.edu
325-574-7965

Shawn Fonville
Dean of Career & Technical Education
Bldg. 15, Room 108
shawn.fonville@wtc.edu
325-574-7645
WTC Lineworker Training Facility
Big Country Electric Cooperative, Inc.
Snyder Industrial Park
1600 McCowen, Snyder, Texas 79549