Medical/Clinical Assistant Program
Degree and Certificate Programs
P
ROGRAM OVERVIEW
The Medical/Clinical Assistant Program trains students to perform a variety of tasks in a healthcare setting. These tasks may include: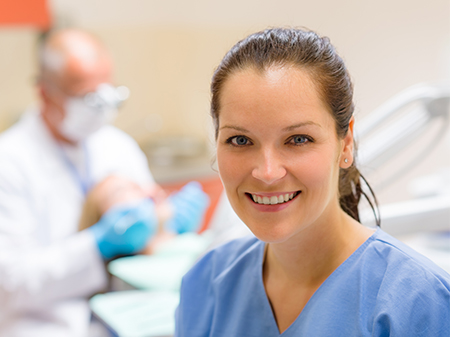 Scheduling appointments and patient processing 
Updating patient medical records
Completing insurance forms
Taking medical histories
Cleaning and preparing the examination room
Measuring vital signs
Collecting lab specimens
Assisting with the physical examination
Administering injections and medications
DEGREE & CERTIFICATE OFFERED
The MCA department offers two routes to provide you with the education and training you need to begin your career.
Associate of Applied Science Degree
Medical/Clinical Assistant Level II Certificate
Upon completion of either route, students will be able to make an application to take the certification exam with American Medical Technologist to become a Registered Medical Assistant (RMA).
For course descriptions and tuition and fee information, please see the Course Catalog.
JOB OUTLOOK
Medical/Clinical Assistants are expected to have excellent job prospects. According to the U.S. Bureau of Labor, employment of Medical/Clinical Assistants is projected to grow 29 percent nationwide from 2016 to 2026. The projected growth in the State of Texas for the same period is estimated at 35.8%, much faster than average for all occupations.  Medical/Clinical Assistants are listed as a Demand Occupation in the Abilene Region of Texas, and growth is projected to increase by 2.2% annually for the next seven years. Currently, Medical/Clinical Assistants in the Abilene Region have a median income of $28,660.
ALCOHOL/DRUG TESTING

As part of WTC's Alcohol/Drug policy, random, reasonable cause, and post-accident drug and alcohol tests are performed on students during their time in the program.
PROOF OF HEALTH INSURANCE

Health insurance is required of all students entering the program.

REQUEST MORE INFORMATION

Would you like to receive more information about this program? Fill out the Information Packet Request HERE.

TAKE THE NEXT STEP

Ready to apply? Check out our New Student Checklist. For more information on applying to the program, please contact:
Angela Thomas
Medical Assistant Program Instructor
Bldg. 16, Room 101
angela.thomas@wtc.edu
325-574-7659
Shawn Fonville
Dean of Career & Technical Education
Bldg. 15, Room 108
shawn.fonville@wtc.edu
325-574-7645