Petroleum Technology
Degree and Certificate Programs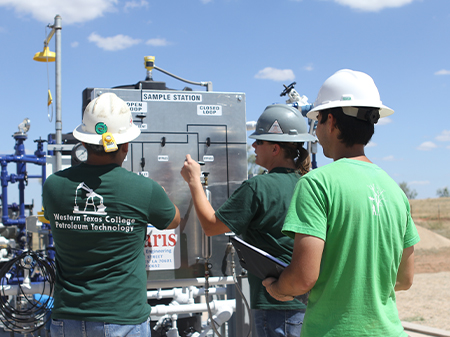 PROGRAM OVERVIEW
WTC designed the Petroleum Technology program to equip students with the expertise required for jobs in the oil and gas industry. Hands-on training and coursework provide a wealth of knowledge to utilize in many areas of the petroleum industry. Our training keeps you working in the industry.
Students can earn an Associate of Applied Science degree in two years or a certificate in one year. Students earn an IADC Wellsharp™ Certification upon completion of either program (AAS or Certificate).
LOCATION
Located in Snyder, Texas, WTC sits just above the Canyon Reef formation in the Horseshoe Atoll and near the line Shale formation. Our location provides exposure to a wide variety of training experiences for our students.
FACILITIES
The Field Lab. The 39-acre Field Lab is equipped with advanced machinery and technology currently utilized in the industry, including a 32-kilowatt solar array that powers the site.
The Indoor Lab. WTC's well-equipped 5400-square-foot indoor lab includes classroom space and a computer lab with access to state-of-the-art industry software.
The Well Control Lab. The state-of-the-art Well Control Lab gives students experiences with well control in a safe, simulated environment. WTC equipped the lab with state-of-the-art simulators from Drilling Systems. Students earn an IADC Wellsharp™ Certification upon successful completion of coursework.
THE WTC ADVANTAGE
100% of students were offered jobs after earning an Associate of Applied Science Degree from the Western Texas College Petroleum Technology Program. 
On average, WTC graduates began their Petroleum Technology career with a starting salary of $60,000.
COURSES OFFERED
Introduction to Petroleum Industry
Applied Petrochemical Technology
Programmable Logic Controllers
Pumps, Compressors, & Mechanical Devices
Flow and Measurement Calibration
Recovery and Production Methods
Corrosion Basics
Petroleum Regulations
Industrial Safety
Oil Field Hydraulics
Petroleum Instrumentation
Artificial Lift
Petroleum Computer Applications
DEGREE & CERTIFICATES OFFERED
The Petroleum Technology program offers an IADC Wellsharp™ Certification, a one-year certificate, and a two-year Associate of Applied Science Degree.
The A.A.S. program requires students to complete 60 semester credit hours of coursework, with 45 in the major area of study and 15 in general education coursework.
The one-year certificate requires students to complete 18 hours of petroleum-related coursework, all of which can be applied to the Associate Degree.
The IADC Wellsharp™ Certification requires students to complete 40 hours of training.
GAINFUL EMPLOYMENT INFORMATION

Petroleum Technology Certificate

ALCOHOL/DRUG TESTING
As part of WTC's Alcohol/Drug policy, random, reasonable cause, and post-accident drug and alcohol tests are performed on students during their time in the program.

PROOF OF HEALTH INSURANCE
Health insurance is required of all students entering the program.

REQUEST MORE INFORMATION

Would you like to receive more information about this program? Fill out the Information Packet Request HERE.
TAKE THE NEXT STEP
Ready to apply? Check out our New Student Checklist. For more information on applying to the program, please contact:
Dana Fahntrapp
Instructor, Petroleum Technology
Building 15, Room 118
dana.fahntrapp@wtc.edu
325-574-7904
Shawn Fonville
Dean of Career & Technical Education
Building 15, Room 108
shawn.fonville@wtc.edu
325-574-7645
The Texas Upskilling and Reskilling Grant through the Texas Higher Education Coordinating Board in partnership with North Central Texas College make The Western Texas College IADC Wellsharp™ Certification possible.